Jewelry Repair Services at Bradley Gough Diamonds

Cleaning & Polishing • Ring Resizing • Restoration
When your jewelry is broken, especially a favorite piece, it can be difficult finding another piece of jewelry that is an exact replication of the original, or one that still maintains that level of personal significance and meaning to you. Our team understands that you want your favorite jewelry designs to be in excellent working condition so you can wear them daily and have them looking their best.
Trust Bradley Gough Diamonds to be your go-to jewelry repair service specialist near Fort Wayne, Indiana. We'll repair and care for your precious jewelry items and bring them back to life as if they were our own.
Jewelry Restoration & Repair
Is your jewelry looking dull or outdated? Have your items seen physical damage or show signs of daily wear-and-tear? If so, bring your worn out or unloved jewelry into Bradley Gough Diamonds so our jewelry experts can make your jewelry sparkle like new again with our restoration and repair services. Here are just a few of the repairs that we are happy to provide for you!
Ring shank replacement
Stone tightening
Stone replacement
Prong tightening and re-tipping
Chain shortening or lengthening
Chain repairs & clasp replacement
Rhodium plating
Watch Repairs
Jewelry Cleaning & Polishing
Make your jewelry sparkle like it once did! Let our jewelry experts remove any tarnish and debris from your fine jewelry. We'll clean and polish your jewelry design so it looks as good as new.
Ring Resizing
All things change with time, and that includes your finger! If you're finding that your rings don't fit on your finger like they once did, or you inherited a ring that needs resizing, Bradley Gough Diamonds has you covered. Our ring resizing experts will take your ring size and walk you through our resizing process. The next time you wear your rings, they'll fit your finger just as you'd desire!
Laser Soldering
If your jewelry needs laser soldering, we'll take care of it! At Bradley Gough Diamonds, we use laser welding to repair jewelry that needs soldering for broken chains and cracks. We can also use these laser beams to solder your wedding ring set!
For a free estimate on your jewelry repair, contact us or visit our store today.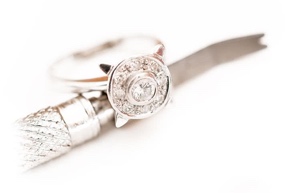 ---
Thank you for your submission. One of our experienced team members will be in touch with you shortly.
---
4321 W. Jefferson Blvd.
Fort Wayne
,
IN
46804
Store Hours
Fri
10AM - 6PM
Sat
10AM - 5PM
Mon
10AM - 6PM
Tue
10AM - 6PM
Wed
10AM - 6PM
Thu
10AM - 6PM