As Your Love Grows, So Should Her Diamond!
Once upon a time, you proposed with the most beautiful diamond engagement ring, now it's time to tell her you'd do it all over again with an Anniversary Diamond from Bradley Gough Diamonds! Whether you have been married 1 year or 81, an Anniversary Diamond is the perfect way to say, "I love you more today than I did back then!" What is an Anniversary Diamond? It's a diamond that is at least double the carat size of her original diamond. It makes sense that as your love grows, so should her diamond! At Bradley Gough Diamonds we make it easy to upgrade to a bigger diamond with our lifetime diamond upgrade offer. When you purchase your diamond at Bradley Gough Diamonds we will give you EXACTLY what you paid towards a newer, bigger diamond. It really is that simple!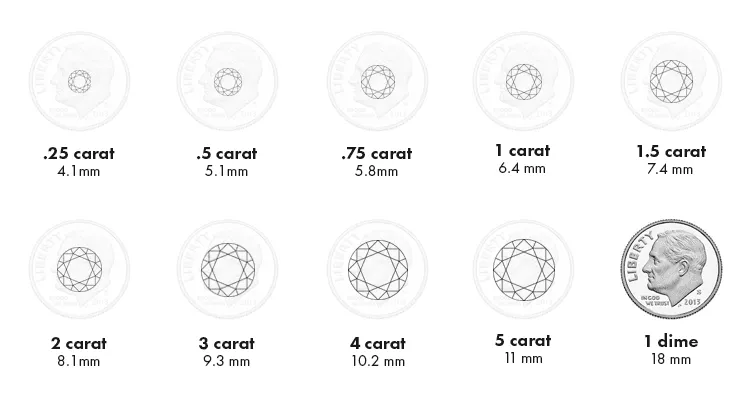 Not sure what diamond is right? Let our Diamond Experts educate you on how to buy a diamond. We'll explain the different cuts, color, clarity and quality of diamonds, so you know exactly what you are getting. Ask as many or as few questions as you like. Our goal is to help you find the one to make her smile sparkle and shine as bright as her new diamond! At Bradley Gough Diamonds we have the biggest and best selection of diamonds in all shapes, sizes, colors and cuts at the guaranteed best price! It's true, we import our diamonds direct and will match or beat any price on any comparable diamond!
Congratulations, you found the perfect diamond, but she doesn't want to trade in her original diamond. No problem! At Bradley Gough Diamonds we can set a bigger diamond into her engagement ring and put her original diamond into a pendant for her to wear close to her heart, match it with an equal size diamond for a pair of diamond studs or help you incorporate it into a one-of-a-kind custom design! If you can dream it, we can help you create it at Bradley Gough Diamonds (we just ask that you plan ahead on this option).
If she wants to keep her engagement ring exactly the way it is for sentimental reasons, we invite you to shop our bridal and anniversary jewelry from top designers like Forevermark, Verragio, Tacori, Noam Carver and more!
Anniversaries are so much more than a day on the calendar, they're a day to appreciate another year of magic and to reflect on all the love that's been shared. So, this anniversary and EVERY anniversary after that, rock her world with an Anniversary Diamond from Bradley Gough Diamonds!
WARNING: Side effects of giving diamonds may include fast heartrate, leaky eyes, excessive hugging, inability to talk, leg weakness and lipstick stains.